DupliTrade
– Automated Trading Made Simple….

DupliTrade is a focused, transparent, user-friendly trading platform, that allows you to automatically duplicate the actions of expert traders directly into your AvaTrade trading account. DupliTrade takes you to the next level of trading with a rich portfolio and a selection of successful strategies by successful traders, selected based on their proven history and trading record.
Easy Registration
Open your DupliTrade account and receive the signals directly to your AvaTrade account to maximise your trading opportunities. DupliTrade allows you to improve and expand your trading activity by following some of the best traders in the market.


Choose from the Best
DupliTrade displays a list of the selected strategy providers, representing different trading methods and styles, giving you the possibility to build and enhance your portfolio.
Benefits of Trading with DupliTrade
Whether you're a novice trader or just too busy to dedicate time to analysing the markets, an AvaTrade DupliTrade account offers numerous advantages. Enter the markets from day one and continue trading even when you are not online.
Let's Get Started!
With a minimum deposit of $2,000, you can gain access to DupliTrade's portfolio of leading strategy providers, automatically traded on your own MT4 account. If you are still getting to know the markets, you can also practise with a risk-free demo account.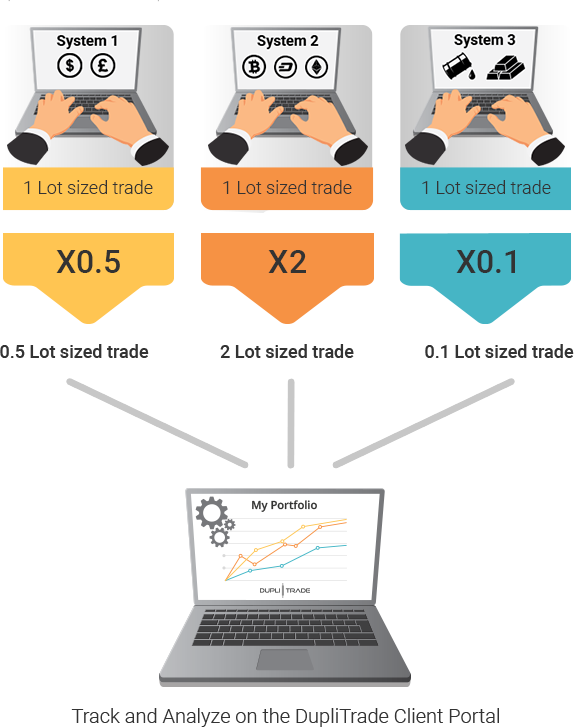 IMPORTANT NOTICE: The information and analysis provided here has been produced by DupliTrade Limited. AvaTrade has reproduced the information without alteration or verification and does not represent that this material is accurate, current, or complete and it should not be relied upon as such. The material is general in nature and has been prepared for informational purposes only without regard to any individual's investment objectives, financial situation, or means. The Information is not to be construed as a recommendation; or an offer to buy or sell; or the solicitation of an offer to buy or sell any security, financial product, or instrument; or to participate in any particular trading strategy. Historical Performance displayed is not an indication of future returns.
Duplitrade FAQ
Why should I consider using DupliTrade?

DupliTrade is designed to make automated trading as simple as possible. By using the principles of social trading, a good deal of mystery and confusion has been removed from automated trading. Plus, DupliTrade doesn't allow just anyone to become a signal provider. The traders available to copy in the system are all audited and vetted, with many having years, if not decades, of trading experience. Even after the stringent audit process these traders remain under the close eye of DupliTrade to ensure they continuing performing at their best.

Is DupliTrade a good service?

DupliTrade has been honed over years of activity to include the best traders that could be found to participate in the service. That said, using DupliTrade is only as good as the traders you choose to copy. Some do well in the beginning, but then become unreliable. Others are steadier in their gains. It is also important that you don't mess around too much with the trades that are provided. While you are able to make manual changes to the copy trades, doing so will change the overall results, and could do so dramatically.

Can you make money using DupliTrade?

The entire purpose of DupliTrade is to make automated trading easy and profitable. That said, it is important that you not only choose good traders to copy, but also that you continually monitor their progress to ensure they are remaining profitable. As market conditions change the results of individual traders can also change. At times it can make good sense to drop the traders you are currently copying and choose new traders who may be improving their performance. Just remember that nothing lasts forever and the winning traders this month could be the duds next month.