Become part of the most popular trading market by opening a trading account with AvaTrade Australia today!
Online Forex Trading at AvaTrade Australia
With a daily turnover above $6 trillion, Forex (Foreign Exchange) stands out as the largest financial market in the world. So large a market it is that it eclipses the entire global equities market many times over. Despite the incredible opportunities that this market has always offered, it remained a preserve of elite investors for many years in the past. This has however changed as advanced technological developments in the past couple of years have opened the market to literally any investor that cares to explore it. By all accounts, Forex is a hugely lucrative market, but like every 'goldmine', mining for 'gold' comes with risks as well. Trade Forex like you would any market, but always keep the risks in mind when doing so.
At AvaTrade, we provide a direct portal to the exciting Forex market via our powerful and intuitive trading platforms. Register to open a free CFD trading account and start your forex trading journey. We are essentially your brokerage partner, and we aim to form a fruitful relationship with our clients. As a partner, we are invested in your success, and that is why we strive to provide the ultimate trading environment to help you enhance your trading activities.
As a globally regulated and multi-award-winning broker, we have also ensured that we provide handy trading tools and resources to help you trade with confidence in the fast and dynamic forex market. Furthermore, we have made numerous assets available for trading and we also boast competitive spreads, high leverage, personal customer service, and risk management tools such as the exclusive AvaProtect™ feature.
Open an FX Trading Account with AvaTrade Australia and enjoy the benefits of an internationally regulated broker!
Why AvaTrade Australia is the Right Forex Broker for You?
Global-Regulation
Regulation is the first sign of a reliable and trustworthy broker. You are trading forex to make money, not to lose it before you even get started. Dealing with a regulated broker guarantees safety of your funds, fair and transparent trading services, as well as fair resolution in the unlikely event that a dispute arises. AvaTrade Australia is one of the most highly regulated online brokers in the market, with regulations across various jurisdictions and continents.
Competitive Forex Trading Spreads
Forex trading is like any other business when it comes to managing costs. It is therefore prudent to mind your trading costs because they have a direct impact on your overall profitability. At AvaTrade, we offer low, competitive spreads across all asset classes because we have directly partnered with multiple, Tier-1 liquidity providers.
Top Forex Trading Conditions
At AvaTrade AU, we have created the ultimate environment for traders to trade flexibly and with minimal restrictions. From restriction-free scalping and short-selling to unlimited netting and hedging, there are endless possibilities when you decide to explore the forex market with AvaTrade Australia. In addition to forex, AvaTrade clients can also diversify their portfolios by trading CFDs of other financial asset classes, such as stocks, indices, commodities, bonds, ETFs, and cryptocurrencies.
Multiple Forex Trading Platforms
AvaTrade Australia enables flexible and convenient trading by offering direct access to multiple platforms where traders can trade their favorite financial assets. From the iconic MT4 and MT5 platforms to WebTrader, AvaTradeGO, and AvaOptions, AvaTrade clients get the unique benefit to decide on the kind of trading experience they desire.
Choice of Forex Trading Resources
As mentioned above, at AvaTrade, we consider our traders as partners. This is why we are by your side at every step of your trading journey. We have a comprehensive educational section that provides relevant and informative materials, such as eBooks and videos, to help traders build and improve their trading knowledge, skills, and techniques. Furthermore, we also provide handy trading tools and resources, such as the Economic Calendar, as well as integrated automated trading solutions or social trading services such as AvaSocial, DupliTrade, and ZuluTrade.
Excellent Customer Service
At AvaTrade, we understand that excellent customer support is an essential component of the overall trading experience we provide. Therefore, we offer round-the-clock, multi-lingual, and professional support to all our clients. The customer support team is friendly and very responsive. Our customers can also stay in touch with us via our various social connections (Facebook, Twitter, and YouTube) for fresh market updates and news.
Trade with AvaTrade. Trade with the best!
Forex with AvaTrade
How to Open a Real Forex Trading Account with AvaTrade?
On the AvaTrade Australia homepage, click on the 'Register Now' button located on the top right corner of the page.
A popup window will appear and will prompt you to fill out your registration details. You will be required to fill out details such as your full name, email address, and phone number. There is also an option for a quick sign up by linking your Facebook or Google accounts.
After signing up, your login credentials will be sent to your email. Complete your registration by submitting documents that verify your identity and address. You can then deposit funds into your trading account and start trading.
How to Download MT4 for Forex Trading
To gain direct access to the MT4 platform, simply follow these easy steps:
Download the AvaTrade Australia MetaTrader 4 by clicking on the download link here
Run the avafx.exe file after it has downloaded
Enter your real account login information when launching the program for the first time
Start trading your preferred financial assets
How Much Do You Need to Start Trading with AvaTrade?
You can start trading with AvaTrade Australia for just A$100. You can deposit funds into your AvaTrade trading account using a variety of safe and convenient payment methods such as wire transfer, debit/credit cards, and various eWallets.
How are Forex Pairs Categorised?
Currency pairs represent the biggest and most popular financial asset class among online forex traders.
Here are the 3 types of currency pairs available for trading at AvaTrade:
Majors
Majors consist of the most traded currency pairs in the world. They have massive liquidity and can be traded practically at all times with very low spreads. Majors always feature the US dollar (USD) as either the base or counter currency. This is because the USD is currently the world's most widely used currency, both in circulation and reserve. Examples of Majors include the EURUSD, AUDUSD, USDJPY, and GBPUSD.
Minors
Also known as cross pairs, Minors represent currencies of major economies, excluding the US dollar. The most-traded minor pairs include the euro (EUR), Australian dollar (AUD), Japanese yen (JPY), and the British pound (GBP) as either the base or quote currency. Examples of Minors include the EURAUD, GBPAUD, EURJPY, and AUDNZD.
Exotics
Exotics consist of one major currency paired with another currency of an emerging economy such as Singapore. Exotics are characteristically illiquid but very volatile, and they usually feature much higher spreads. Examples of exotics include the AUDSGD, EURTRY, and USDZAR.
The different types of currency pairs present different opportunities and risks for traders. Nonetheless, it is often advisable for beginner traders to focus on the Majors, whereas the more experienced traders can explore the other currency types.
Open an FX Trading Account with AvaTrade Australia and enjoy the benefits of a professional regulated broker!
How to Open a Forex Position?
You can open a trade position on the AvaTrade Australia MT4 platform in 3 main ways:
Order Window. Double-click on the asset you wish to trade (on the Market Watch tab) and an Order Window will pop up. Fill out your trade parameters such as lot size, stop loss and take profit levels, as well as order type (Market or Pending execution). You will then buy or sell the asset. A Market order opens a trade position instantly, whereas a Pending order opens your trade position after set conditions have been met.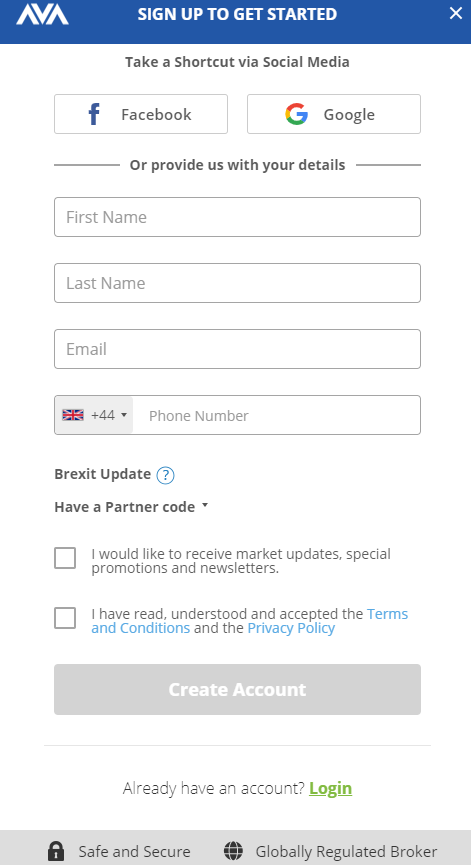 Chart Trading. Simply right-click on your preferred asset chart window and select 'Trading'. Proceed to set your preferred trading parameters as you wish before opening the trade.
One-click Trading. Activate the one-click trading functionality by clicking on the 'Tools' tab in the main menu. The one-click trading function is available under 'Options' in the 'Trade' section. After that, there will be a buy/sell tab on your charts which will allow you to open a trade position in the market with just a single click.
How to Use Leverage in Forex trading?
Leverage is a facility offered by forex brokers to allow traders to gain greater exposure in the markets. It is essentially a loan the broker provides to allow you to control a much larger position in the market by simply placing a small margin of capital. Leverage serves the purpose of increasing your capital base as well as magnifying your profits. But, it should be used carefully because it also amplifies your losses on trades that go against you.
Here are some of the ways to use leverage effectively:
Always use stop-loss orders. Stop-loss orders automatically close your losing positions at a predetermined price point. In the fast and dynamic forex market, price spikes or surges in any one particular direction can easily put a massive dent in your capital. Stop losses prevent losses from becoming excessive.
Select a comfortable leverage level. Always choose a leverage level that you are comfortable with. If it raises your anxiety, it is a higher leverage level than you can manage. The general rule of thumb is to use a lower leverage level in volatile markets and a relatively higher level in less volatile markets.
How to Calculate Pips in Forex trading?
In forex trading, profits or losses are made out of price movement.
Pip – Price movement in the forex market is measured in pips. A pip is usually the smallest increment in price movement of currency exchange rates. For instance, when the price of the AUDUSD pair moves from 0.7700 to 0.7701, it is said to have increased by 1 pip. In most cases, a price quote will generally have 4 decimal places, but some brokers go up to five decimal places.
Lots – Forex is usually traded in lots. The standard lot size is 100,000 units of a currency, which makes it possible to take advantage of the tiniest price changes in pips. The value of one pip is fixed at $10 when the USD is the quote currency, as in the AUDUSD pair. When the USD is the base currency (as in the USDCAD), the value of a pip is calculated by dividing $10 by the prevailing exchange rate. For instance, if the USDCADrate is 1.2000, the value of a pip will be $8.3 ($10/1.2). When the Japanese yen (JPY) is involved, the rule is to multiply the result by 100.
Different brokers may have different conventions when calculating pip values relative to a lot size, but you will always know the value pip value when trading any underlying financial asset. Brokers also offer mini lots and micro-lots. When a standard lot is worth $10, a mini lot (10,000 units) is worth $1, and a micro lot (1,000 units) is worth $0.1.
How to Build a Strong Forex Trading Strategy
Like in any business, you need a strategy when trading the forex market. A profitable strategy is one that generates more profits than losses. Having a strategy is one thing but sticking to it is another. You must have the discipline to stick to your strategy and not let subjective human emotions get in the way of objective trading activity. Here are the factors to consider when building a profitable strategy:
Timeframe
Determine whether you will be a short-term or longer-term trader. This will inform the timeframe chart that you will use to analyze the price changes of your favorite assets. For instance, a scalper will focus on shorter timeframe charts such as 1-minute and 5-minute charts, whereas a swing trader will watch 4-hour and daily charts.
Trade Methodology
Determine the type of analysis you will use to identify trading opportunities in the market. You can either be a technical or fundamental trader or both. Technical analysis involves predicting future price behavior based on past price action, whereas fundamental analysis involves studying how economic, social, and political factors impact a financial asset's value.
Trading Rules
Set rules that will guide how you take advantage of trading opportunities in the market. You can set rules or guidelines in areas such as trading hours, trade entries, trade exits, stop loss and take profit levels, indicators to use, as well as how to deal with economic news releases.
Risk Management
Risk management is the only way to guarantee success in trading for the long term. A risk management plan will detail how you will manage the ever-present risks in the market. You will have to outline your maximum stake amount per trade, your maximum drawdown level, your hedging plan, as well as how to trade correlated pairs in a manner that does not amplify your risk in the market. A risk management plan will also include how you will be making withdrawals to strike a balance between enjoying your profits and maintaining a healthy capital balance to continue trading.
Testing and Optimisation
After building a strategy, it is important to perform thorough backtesting and forward testing to determine the best parameters as well as market conditions that support its optimal performance. Use our free demo accounts to test, tweak, and optimize trading strategies risk-free.
Forex Trading FAQs
Can you get rich by trading forex?

The short answer is YES! But the long answer is that, like any investing endeavor, it is not easy. Forex trading is not a get-rich-quick scheme, and success requires dedication and discipline. The forex market offers a huge opportunity, but it is also a high-risk arena. But your chances for success are greatly increased if you follow tips such as trading with a reputable broker, continually building trading knowledge and technique, managing trading risks effectively, and mastering trading psychology. It is not easy but is certainly possible to get rich trading forex.

How do you start trading forex with A$100?

AvaTrade Australia allows traders to start trading the forex market with as little as A$100. For beginners, this is an excellent way to start experiencing the risks and rewards available in the live forex market. It is an excellent way to transition from demo trading to live trading without putting huge amounts of money on the line. Trading live will help you understand how trading psychology is an important part of your trading activity, an experience that does not exist in a demo environment.

How difficult is forex trading?

A common statistic in forex circles is that two-thirds of traders lose money in the market. That statistic alone implies that forex is not an easy undertaking. It is even more difficult if you desire to make money quickly. But once you take the time to learn about the basics of trading, studying technical and fundamental analysis types, as well as understanding your appetite for risk as well as trading personality, you will have laid a good foundation for success in the lucrative forex market. It does not mean that trading will become any easier, but you will definitely become a better decision-maker in the markets!
Open an FX Trading Account with AvaTrade Australia and enjoy the benefits of an internationally regulated broker!