What is Forex VPS?
Increasingly today more people are choosing to install and use virtual private servers – VPS when they trade forex on their desktop computers. Firstly to have more general control over their PC, and secondly to overcome obstacles that can potentially impede computer use such as – power or internet failures, physical difficulties, computer shutdowns and more.
A VPS allows for activity to continue even when these occur and have grown in popularity. When it comes to forex and CFD trading the advantages of using a virtual web server are the same – as any of these issues can happen. Traders want to make sure the actions they execute on their trading platform – usually MetaTrader 4 are still running and that their account and funds are safe.
Forex VPS and Expert Advisors
When it comes to Forex automated trading, avoiding latency and maintaining platform connectivity is a trader's most essential asset. Every millisecond is vital to the success of your trades, thus the installation of a good VPS works hand in hand with an excellent EA.
Placing Expert Advisors on a Forex virtual private server hosting is a great option for traders wanting to run their EA's around the clock during trading hours, avoiding the hassle of having to manage this on a home PC computer The trader can control the amount of EAs he uploads and has constant control over his trades with assistance from AvaTrade broker. The added capacity of VPS's has led many traders to use a Forex VPS web host, and its become a popular solution for optimizing trades.
Traders can run their trades in an environment that is specially intended for maximum uptime. These features include:
Upload your EAs securely and swiftly
Easy access from any browser
Running EA's with a 24/7 server and maximum uptime
Pre-installation of MetaTrader 5 or MetaTrader 4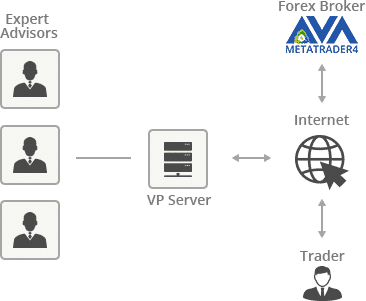 How to Choose a VPS Provider
There are many factors that come into play when choosing a VPS MetaTrader 4, and it is important to commence thorough research before buying or renting one. Naturally, a good server needs to be secured & safe, but there are other factors to take into account.
Firstly – some servers operate on Windows, and others on Linux. As they are totally different operating systems, not every server is suitable for both. Each operating system has advantages and disadvantages, and once chosen it's to the trader's advantage to find a server that matches the requirements needed.
One would also come to enjoy using a virtual private server more when knowing the settings and configuration are tailored to his needs and abilities. RAM space needed, backup protocols, date transfer, and many more factors should be taken into consideration upon choosing a server.
Another consideration in choosing a VPS is whether to choose a specialist Forex VPS server/web host or choose a VPS plan from a regular web hosting company. Each choice has advantages and disadvantages. For example, Forex VPS services are well versed in the needs of Forex traders, installing EAs, etc, whereas regular hosting companies may offer a broader range of plans and better overall support, e.g. more options, 24/7 and more.The key point is to make sure the chosen VPS has the required technical abilities and a good reputation amongst other users. Eventually, a server that stands to these criteria could work for the trader, no matter if it is a unique forex VPS MetaTrader4 or a regular one.
Last but not least – price. The price of a VPS plan can vary from a few USD to hundreds of Dollars US, based on quality, storage and more, the cheap ones are not necessarily worthwhile, nor the most expensive ones. The price should be the last element to look into – once all the other aspects are settled to the trader's requirements.
How to Install a VPS
This short video will explain how to start the process of using VPS for forex trading. The first step, after proper research was complete and the server was selected, is to rent the chosen server:
After the private server was properly installed on the computer, it's time to place the forex signals, expert advisors, tools and everything you want, from the platform folders to the private server:
Once the process is complete and the trading can begin, it's important to stay on top of the trading, expert advisors, tools and the server's activity. This video demonstrates the correct way to do that:
Best Practice for Maintaining a VPS
As a virtual private server is a regular server, assuming it is a good and reliable one, there is not much that is needed to be done on a regular basis other than maintain it. However, it would be unwise to trade carelessly without checking the statues of the server, making sure there are no problems that occur, technical issues that might arise, and so on. Contacting the server's owners occasionally is just a good precaution that is always good to do.
MetaTrader 4 VPS FAQs
I'm new to forex trading, what is a forex VPS in simple terms?

As a forex trader, you want to be connected to the Internet 24/7. If you lose connectivity, especially in Australia with Telkom's connection problems, you could lose money. A forex trading VPS allows you to stay permanently connected to the Internet. This shores up your safety and enhances the stability of your connection. There are many problems when sharing a server. These include connection failures, reduced speeds, viruses, and power cuts. During volatile trading sessions in the forex markets, you cannot afford to experience these problems. Small outages can have outsized impacts on the profitability of your trades.

What steps should I take to connect my VPS to MetaTrader 4 or MetaTrader 5?

The first thing to do is connect your computer to your VPS. Go to the local drive on your computer and select program files. Next, copy the MetaTrader 4 drive. Now, navigate to your VPS computer's C drive, program files, and paste the MetaTrader 4 drive into that location. Enter the MetaTrader 4 drive, and then copy Terminal. Navigate to your desktop, and then paste Terminal. The final step requires you to click on Terminal and then you'll be able to access your MetaTrader 4 platform. You can also watch the 'How to Install a VPS' video for forex trading.

What is the best forex VPS for me to use?

AvaTrade Australia is not in the business of prescribing the best forex VPS for you to use, but we can give you a few pointers. Since everyone has different preferences, here are some of the features that you should expect from your chosen VPS provider. Rapid executions of trades (approximately 1 ms), servers guaranteeing 100% uptime, 24/7 technical support, full support of Expert Advisors (EAs), lightning-quick SSD, rapid setup. The plans and pricing options depend upon the features and functions of your chosen VPS provider. Look for things like VPS Ram, VPS CPU, and VPS disc space.
Although trading with a VPS is recommended, with AvaTrade the trading is smooth and safe. One does not contradict the other – while it is wise to trade with a fully regulated broker, every trader should trade in the conditions he sees fit, so he will be able to trade with a peace of mind.