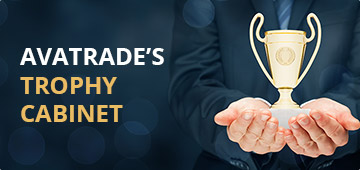 The Award Goes To…
Since its establishment in 2006, AvaTrade has been evaluated and honoured for some of the industry's most remarkable financial and technological achievements. Each and every award we receive is proof that we succeed in identifying and understanding our traders' expectations and do our utmost to exceed them.
Open an account with an award-winning broker or try a risk-free demo account.
Global Business Review Magazine
2021

Investingoal
Best Trading App
Best Fixed Spread Broker
2021

Finance Derivatives
Best Forex Broker Ireland
2021

2021

2021

Fxdailyinfo.com
Best Affiliate Programme
Best Trading Experience
2017 - 2018

The European
No. 1 Broker
Best Forex Broker
Best Bitcoin CFD Trading Provider of the year
Best Affiliation Programme
2014 - 2020

2019

International Business Magazine
Most Innovative CFD Broker, UK
2019

Rankia
The Best Forex Broker, Portugal
2019

2018

FX Eye
The Most Trustworthy Broker, China
2018

FXEmpire
Best Forex Broker
Best Broker: Most Reliable
Best Educational Broker
2011 - 2018

JFEX Awards
Best Affiliate Programme
Best Dealing Room
2014 - 2017

Finance Word
Most Trustaworthy Broker, China
2017

Africa Expo Financial Awards
2016

Arabcomgroup - AG
Best Financial Derivative Trading Provider
Best Affiliate Programme
Best Alert System
2008 - 2016

CN Gold
Best Service Provider of the Year, China
2016

2016

FX168
Fastest Growing Broker, China
2016

2015

Grand Prix De La Confiance
2015

Global Banking & Financial Review
Most Innovative Forex Broker Europe
2013

Forex Magnates
Best FX Affiliate Programme
2012

WORLD FINANCE: Exchanges and Brokers
Best Execution Broker, Western Europe
Best Trading Platform - Global
2011

2011

World Finance Foreign Exchange Awards
2010

2009

2009

LOGIN TO YOUR ACCONT
FORGOT PASSWORD

Safe and Secure

Globally Regulated Broker

Safe and Secure

Globally Regulated Broker
SIGN UP TO GET STARTED
Get $10,000 to your demo account now!

Safe and Secure

Globally Regulated Broker