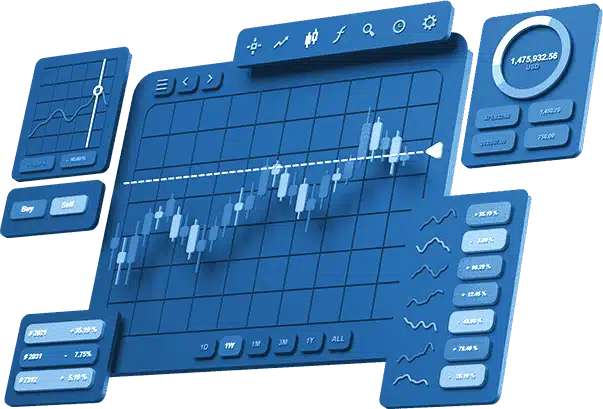 Welcome to AvaTrade Australia, your one-stop destination for online trading. No doubt, you're eager to get started. Online trading is certainly exciting and filled with potentially rewarding opportunities.
If you want to become a successful online trader, it all begins with a comprehensive trading education.
We're going to break it down for you into easy-to-understand components. Take a deep breath, relax. Online trading can become overwhelming if you let it. Our approach is simple, clear, and enjoyable.
Luckily, this online trading made easy guide is geared towards new traders and expert traders alike. For the pros out there, you'll be able to broaden your knowledge of specific areas by following the contents of this guide.
For the newbies, you've dropped anchor at the right place. We will walk you through the most important elements of online trading right here in This guide.
Table of Contents
What is Online Trading All about and What Do Online Traders Do?
The simplest definition of online trading is the buying and selling of financial instruments for gain. Believe it or not, you can profit off rising or falling prices, provided you call the trades correctly.
Online trading differs markedly from online investing, in terms of timeframe (trading is short-term and investing is long-term), and also the direction of price movement. With investing, prices have to appreciate for profits to be realised.
We already know that online traders are in the business of trying to improve their financial situation. When trades move in your favour, you finish in the money. That's the expectation. Online trading opens many doors for people.
Become part of the most popular trading market by opening a trading account with AvaTrade Australia today!
If implemented correctly, it can certainly improve your economic situation, and allow you to become the master of your own destiny. There are plenty of traders who hit it big, thanks to a combination of smart decision-making, careful analysis, and exceptional funds management.
There are many caveats in this regard. Not every broker is cut from the same cloth. AvaTrade Australia is a world-class broker with a sterling reputation. If you are on the hunt for an online trading account, do not be misled by all the window-dressing out there.
Many brokers are too eager to get you to sign up with flashy offers and lofty promises. Forget the rest, stick with the best. Anyone who promises you guaranteed returns when you trade with them is lying. Trading is inherently risky, with no guarantees.
Today, let's plant the seed of truth in your mind. Trading is all about learning. Let's begin by planting the seed, nurturing it, and feeding it with as much relevant knowledge, insight, and practical experience as possible. In this vein, online trading is no different to being a work from home mom or dad, freelancer, or self-employed professional.
It's a job, plain and simple. You must be able to roll with the punches. Sometimes you're going to land a KO trade, and sometimes your trades will fall flat. Do not be dissuaded – stay the course.
In a sense, a successful trading career must be thought of in the same way as a long-term investment in yourself, and your financial future. All of the prerequisites must be lined up. These include:
Set a trading budget which includes the duration of your expected trades, and the amount of funds you have available for investment purposes.
Establish goals ahead of time. These should be clearly measurable (quantitative in nature), within a specific timeframe.
Be honest about your appetite for risk, since this will affect the types of trades you engage in, the assets you buy and sell, and the capital outlay for each trade. A risk-averse individual should avoid high-risk trades, and over-capitalising in individual trades.
Prepare to learn as much as possible about the financial markets. Anyone who goes into the online trading scene with no desire to learn is bound to fail. Even the best traders learn something new every single day. The raison d'être for engaging in trading is the acquisition of knowledge – profits are a byproduct.
Naturally, these are big topics that require lots of focus and time. Fortunately, you can approach your trading education at your own pace. A good point of departure is the careful selection of a broker and trading platform.
AvaTrade Australia is on point for every category. For starters, our industry-leading brokerage facilitates trading across multiple world-class platforms, including:
These powerful trading platforms are designed to make it much easier for you to trade stocks, commodities, indices, currencies, cryptocurrencies, ETFs, and other financial instruments. Plus, we encourage you to practice your newfound trading skills and strategies on our demo accounts. These mimic real-life trading, at market prices, with zero-risk of loss.
Again, markets are unpredictable. There is no trading platform in the world that will guarantee profits on every trade. While this is a reality we must all face, it is reassuring to know that you are in safe hands as far as quality, security, and execution of trades is concerned.
We take great pride in delivering an exceptional trading experience, from inception to cash out. The more pertinent information you know about trading, the more successful you will be. Act decisively, without compunction, and you will realise your potential.
Our security measures include AvaProtect to safeguard your account – your guardian angel. We are continually striving for service excellence in all aspects of the online trading experience. You are privy to complimentary support, with trading tips, tricks, and strategies, honest feedback, and sensible advice. We will provide you with as much support as you need to allow you to make better trading decisions.
As an online forex trader, MetaTrader 4 is your go-to platform. It is a powerful trading resource with enhanced features and functions. We encourage you to take a look at the benefits of using MetaTrader 4 at AvaTrade Australia.
We've hit on a few topics that we are going to cover in in this online trading guide. Each section that follows will provide valuable links for you to delve deeper into the details. Let's get started!
Different Trading Styles
A trading style basically describes the way you trade. Think of it as your signature brand of trading. They say that trading is as old as the hills – it was around since the dawn of mankind, first as rudimentary bartering, and ultimately evolving into a complex, multi-faceted global ecosystem.
Over the years, many different trading styles have been showcased. Some have stayed, and some have been relegated to the annals of history. Many traders tend to adopt multiple different trading styles, based on their preferences, their chosen assets, their timeline, and their budget.
Your trading style should reflect your strategic objectives as a trader. As you start to immerse yourself in the online trading arena, you will find increasing amounts of time required to fine-tune your trading prowess. Certain financial instruments make it easier for you to trade bigger quantities with the same amount of capital – leverage and margin requirements.
Consider the trading style that is best suited to your needs, and then take a look at the following trading strategies.
Trader Training Strategies
If you were to take a dozen traders with the same stock, you would likely see 12 different perspectives vis-a-vis how that stock is traded. Entry points, exit points, stop loss levels, take profit levels et cetera. Believe it or not, this is to be expected. Trading styles are unique to traders. When a trader has a chart in hand, unique trading styles kick in to high gear.
Your point of departure is a study plan that reflects the path you have chosen. Alternatively, you can approach your trader training as you wish. Regardless, AvaTrade Australia is geared towards traders across the board. Our didactic material is up-to-date, and reflects the pulse of the market. Consider all the options available to you:
Trader training articles: practical guides on trading, financial instruments, economic indicators, trading tools and resources, logins and passwords, commonsense advice, and the like. We make it simple, clear, and concise for you to trade online.
Trader training videos: our videos at AvaTrade are expertly designed for maximum traction with traders. They are concise, useful, and easy to understand. We tackle all the important topics in videos, quickly, and professionally.
Trader training e-book: request an e-book from AvaTrade – it's 100% free for you.
Trader training daily webinars: what better way to get a feel for the markets than webinars? Our professionals are standing by to offer you their take on the financial markets. You can subscribe to whoever you wish, and compare your financial smarts with others in the industry.
Trader training practical guides: need some help with MetaTrader 4 and MetaTrader 5? Take a look at our easy-to-use guide with screenshots and tips.
Trader training books: noted traders lend their in-depth assessments of the financial markets to you, courtesy of training books. We encourage you to go through the literature at your leisure.
Important note: the financial markets are a hive of activity. If you don't know what you're doing, you risk loss. We strongly recommend that you take the time to understand what leverage/margin is, and how it works. Plus, it's important that you understand what a CFD is.
Practical Application of Theoretical Knowledge
All professional tasks, duties, and responsibilities require ad hoc tools and resources. For traders, the following tools are required:
A trade station: traders down under are increasingly turning to their smartphones (Android and iOS) for trading purposes. However, you may wish to trade on PC, Mac, or a tablet.
Select a broker: arguably the most important decision you will make is your choice of broker. As a retail trader, a broker is sacrosanct. A broker is essentially your investment/trading partner. They will walk you through the process of trading financial instruments, step-by-step.
Pick the appropriate trading platform: fortunately, you don't have to go in search of trading platforms, since these are provided by the broker.
Start with a demo trading account: demo trading accounts offer a zero-risk solution to trading online. You can simulate real-money trading, under real-market conditions, with a faux trading bankroll. This is the best way to understand the intricacies of the trading platform, with charts, graphs, trading signals, financial instruments, and price volatility.
Switch to a real money trading account: once you've gone through the steps with a demo trading account, and you are comfortable, then you can switch to a real money trading account.
Use economic calendars and other pertinent data: economic calendars reflect real-time market news and economic reports. This information is divided by asset, and importance. You will see which announcements have the biggest impact on your trading activity.
Copy Trading and Social Trading Online
Copy trading is simply remarkable. This ingenious innovation in the trading scene allows you to select your choice of professional/successful/preferred traders from a wide range of traders in the AvaTrade community. You can follow them and copy their trading strategies. By learning what they trade, how they trade, and how much they trade, you can profit when they profit.
Of course, all of this should be conducted within the framework of a regulated broker like ours. We are the world's first broker to offer copy trading services, and we encourage you to communicate with our experts courtesy of the AvaSocial app.
Social trading is part and parcel of the copy trading scene. With social trading, you effectively join a community of traders online who share your passions, and determination to succeed. Social trading is a fabulous way to engage with a community of like-minded traders on our trading platform.
Reasons you Should You Choose AvaTrade Australia
AvaTrade is an industry-leading authority in online trading. We are fully certified, licensed, regulated by multiple authorities around the world. We've been operating since 2006, and we're still going strong.
As a multi-award-winning forex broker, we are also a top platform for trading stocks, commodities, indices, crypto, ETFs, bonds, CFDs and more. We are the world's first online brokers to provide traders with CFD trading services. This opens a world of opportunities to traders, with multiple markets accessible to professionals and retail traders across the board.
Tried and trusted by traders the world over.
Thousands of financial instruments to trade, including forex, crypto, stocks, commodities, ETFs, indices, and CFD options.
Zero-hidden costs, and low spreads so that you can enjoy full transparency, and clarity of pricing across multiple financial instruments.
Superior customer support and service is assured with multilingual support available to you around-the-clock, 24/5.
The world's best trading platforms for retail traders and professional traders alike. We offer MetaTrader 4, MetaTrader 5, AvaTradeGO, and WebTrader. Our platforms are available to you on PC, Mac, Android and iOS devices.
Beyond the basics, AvaTrade Australia is deeply invested in maintaining trust, security, and credibility. To this end, we offer risk management strategies, such as trailing stop orders and stop loss. Thanks to our proprietary AvaProtect functionality, you can hedge positions up to $1 million. The only risk you should take on is what you can afford – nothing less. We segregate client accounts to protect you against claims against us. Take a look at our security protocols:
256-bit SSL encryption
We are WebTrust compliant
Embedded true-site identity assurance
We are McAfee secure to prevent identity theft and credit card fraud
Complimentary demo trading accounts are standard at AvaTrade. We do not believe that you should trade for real money until you know what you're doing. That's why we give you all the tools and resources you need to get up to speed with real money trading. You can open a demo trading account with virtual money. Trade as you would under real market conditions. Once you feel confident about your demo trades, you can switch to real money trades at any time.
AvaTrade Guardian Angel
Did you know that we offer a complimentary support system which dovetails as a risk management tool for MT4 clients? Guardian Angel provides the feedback you need for your trading activity. Trading can be stressful for novices and experienced professionals alike. This tool is geared towards better decision-making systems.
It can help to reduce risk, identify errors, and promote a sense of awareness while you're trading online. It will also broaden your trading horizons, and strengthen your connections with the financial markets. Guardian Angel is designed to make it easier for you to take emotion out of your trades, and focus on making smarter, logical decisions.
What Makes a Great Trader?
Everyone gets lucky sometimes, but that's not enough to make you a successful trader over the long term. There are certain characteristics of successful traders that we can point out:
Understand what makes you tick as a trader. What is your risk profile? Are you risk seeking or risk averse? What types of financial instruments do you enjoy trading? What is your budget? What trading styles and strategies do you want to employ?
Arguably the most important characteristic of a great trader is their insatiable appetite for knowledge and learning. The more you want to know about trading, financial markets, tools and resources, the better.
Discipline, determination, and grit to succeed. Trading can be a gruelling experience, particularly if the market seems to be turning against you. Stay the course, and stick to the basics. Do your research, do not over capitalise on individual trades, do not chase your losses, and do not become greedy. Set stop loss orders, stop limit orders, and use all the tools and resources that are available to you through the trading platforms.
How to trade online main FAQs
How can I do trading online?

In this day and age doing trading online is a simple proposition as long as you have stable internet access and a bank account or other way to fund your trading account. You'll find that there are many online brokers offering access to trade on stocks, commodities, forex, indices, bonds, and even cryptocurrencies. And they make it quite easy to open and fund a trading account. Of course, you're already here on the AvaTrade website, so why not simply get started trading with us. Just click the button above on the right to Register Now.

What skills do I need to trade online?

You might be surprised to learn that you really don't need any skills to get started online. Instead what you need is the desire to trade and the drive to learn how to trade better. As you begin trading, you'll need to read a lot, but that's ok because there are loads of great books available that can teach you about trading the markets. As you become more experienced, you'll want to focus more on the various types of market analysis, like technical chart reading, and fundamental economic analysis. Finally, you'll add risk management and money management techniques to your arsenal of trading skills.

Is trading online safe?

In general online trading is quite safe. Online brokers spend plenty of time, money, and other resources to ensure that their trading platforms remain safe and secure. In addition to the steps being taken by the brokers you should also do your own part to keep your online trading account secure. As long as you're using common sense and avoiding potentially sketchy websites and brokers, you're almost certain to be safe when trading online. And when you think about the profit potential any threats are more than offset by the potential benefits to be gained from online trading.
Open your trading account at AvaTrade or try our risk-free demo account!